Adobe InDesign: Intro to Adobe InDesign
This Adobe Indesign course focuses on the uses of Adobe InDesign CC  for desktop publishing in the Windows and Macintosh environments and for document layout and design. If you want to learn about desktop publishing and produce high-quality documents with great control over the placement of text and graphics on the page, then Adobe InDesign is the tool for you. Participants have the opportunity to learn how to integrate text, graphics, and photographs to create a variety of professional quality finished documents for practical and business use. Learn to use Adobe InDesign to create graphics-intensive print documents and to really take your design skills to the next level.
Document and column set up for a variety of publications.
Use of rulers, guides, and snap-to guides.
Format type including styles, sizes, leading, tracking, kerning.
Use the edit menu: Cutting, Copying, and Pasting.
Multiple pasting, editing stories, and spell checking.
Format paragraphs, moving/resizing text blocks, leading adjustment etc.
Place graphics, resizing graphics, and text wraps.
Set up templates and style palettes.
Group/align objects and multiple pasting with "Step and Repeat" functions.
Graphic formats, links, and resolutions.
Color, color libraries and color separation.
Bi-fold brochures and other custom layouts.
Rotation tool, drop caps, page numbering, and insertion of special symbols.
Styles and creating a custom style palette, use of templates.
Print solutions and PPD's and PDF's.
Principles of design.
Art degree or a basic understanding of layout software basics is helpful.
Getting to know tools, panels, and workspaces.
Learning how to navigate and zoom in a document.
Working with layers for efficiency and organization.
Setting up master pages in a document.
Building automatic page numbering and sections.
Creating text and graphics placeholder frames.
Placing text and graphics on document pages.
Understanding text and graphics frames.
Grouping and transforming frames.
Formatting text using paragraph and character styles.
Flowing, threading, and spell-checking text in text frames.
Adding color: swatches, gradients and tints.
Frequently-used shortcuts and techniques.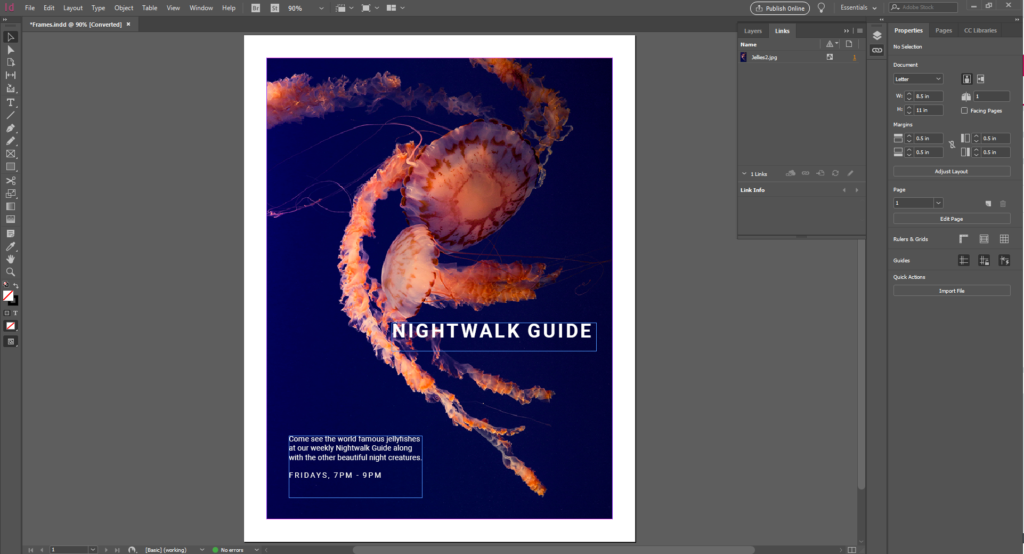 Become familiar with the Adobe InDesign workspace and tools
Learn how to use program features to execute workflow
Design your own 2 page magazine spread
Design a flyer for a restaurant opening