SOLIDWORKS: Sheet Metal Course
Learn the fundamentals of the sheet metal process in this course. Participants will not only learn about the sheet metal production and prototyping process, but focus on modeling and creating sheet metal parts in SOLIDWORKS all with the intention of manufacturing using sheet metal. Students have the option to customize this course to fit their requirements as we have 50+ class models to disseminate.
This course is a serious introduction to the sheet metal process, constraint based modeling using SolidWorks Sheet Metal & making changes utilizing the latest release of SolidWorks. This SolidWorks sheet metal training course is developed for new and seasoned users who want to become proficient learning SolidWorks sheet metal in just one week. We help you learn SolidWorks, not read to you from a book or exercise. In this course we help design engineers learn how to make changes quickly to set them up for becoming expert faster. As with all Design-Engine classes, participants keep the training material login and password for life.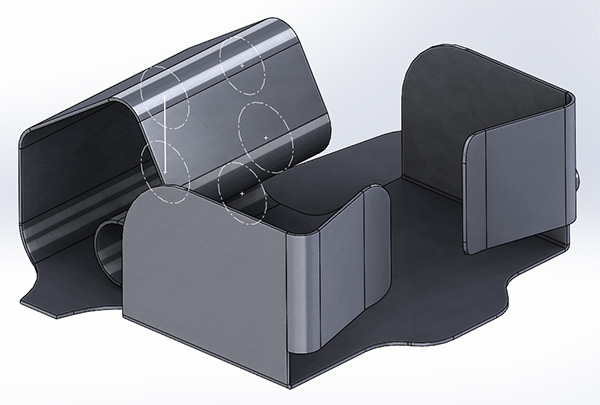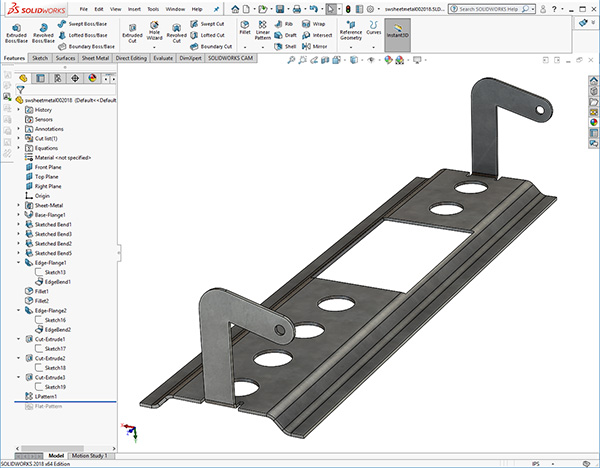 Principles of Sheet Metal modeling

Base Flange and Tab

Bends and Reliefs

Flat patterns

Lofted-Bends

Miter Flange

Joggle Geometry

Rips

Folds & Unfolds

Corner treatments

Hems

Offsets

Patterns & Vents

Louver & Dimple forming tools plus Custom forms

Swept Flange
Discuss pattern features and how to utilize them for sheet metal parts

Discuss form tools and how to manage them on parts

Learn to create and manage custom forming tools

Discuss the difference between Normal Extruded Cuts vs regular Extruded Cuts
16 hours = $1650 per student
For corporate rates, please call (312)226-8339
Layout and develop pivot .042″ Aluminum bracket then add a Flat State instance

Build brackets with bends and extruded walls with a variety of challenges

Model dust cover for back of computer using stamp form tools

Create multiple parts that lock together i.e. sheet metal computer power supply

Several Brackets, using Hem Bends, Deep Drawn Form, and combinations

Explore various workflows for developing sheet metal components using 'Convert to Sheet Metal' techniques

Create custom forms ranging from lances, louvers & dimples

Develop a deep draw sink basin managed with a custom form tool
Utilize Top-Down design in various forms to ensure proper fit and alignment
50+ Solidworks sheet metal models to choose as all of our courses are easily customized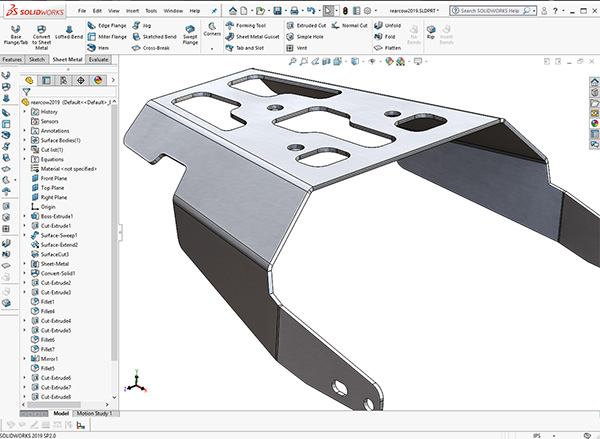 Video Training Delivery System
Ask your Design Engine account manager about our Training Delivery System(TDS), an easy-to-follow guide for designers and engineers who want a supplement to this course.