Creo Cable Harness Design WEEK TWO
This five-day customized course is for those participants who are already familiar with routing cables & harnesses. Participants often take training with respect to a specific project or product line. This course is intended for contractors, drafters, mechanical engineers or electrical engineers involved in the management of schematics, electrical cabling and wire harnesses design, or technicians who work within harness design and development teams. Design Engine can assist in the customization of your company-specific Creo Schematic symbols, so that they correspond correctly with logical references to Creo Parametric connectors.
In this class, you will learn how to route electrical harnesses, create flattened harnesses for manufacturing, and document harness designs by drawings that include customized BOM tables and wire list information. Participants will enhance what they know to create Wiring Diagrams and utilize that data to autoroute functions through assemblies. The 40-hour course covers an extensive study and use of Creo Schematics for routing harnesses automatically. After successfully completing the course, you will be able to create 3D electrical harnesses and associated manufacturing deliverables and learn to make changes quickly to set them up for becoming an expert faster. For contractors looking to become high level harness design consultants, we offer a special two-week cable harness design program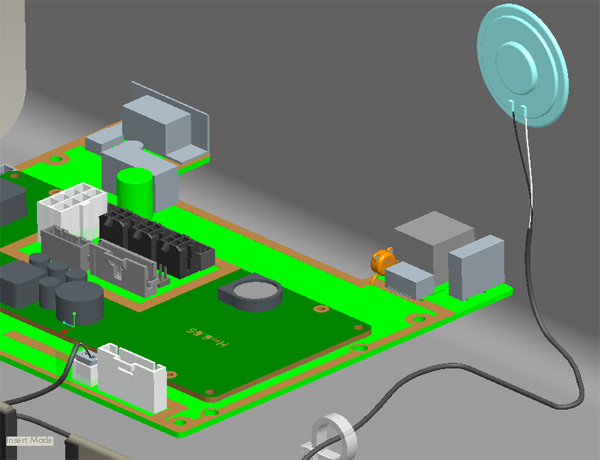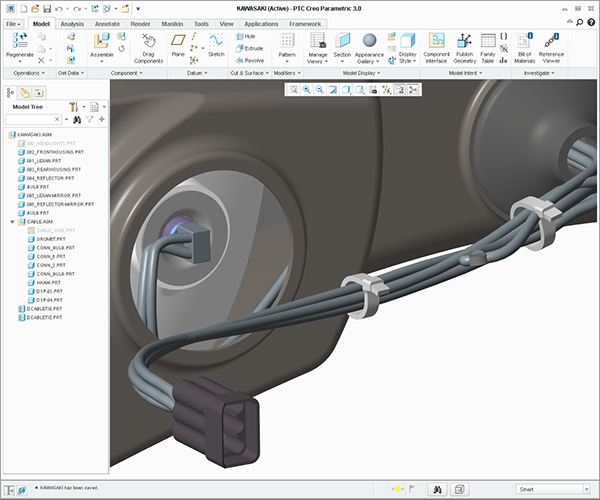 Diagram and Harness Development Process Overview

Model 3D Electrical Harnesses with Creo Assemblies

Learn to prepare connectors and manage import, modeling and set up of connectors effectively

Route electrical harnesses through Creo assemblies and separated top-down models

Create flattened harnesses for manufacturing

Document harness designs by creating flattened harness drawings that include customized BOM tables and wire list information

Participants will gain a firm grasp on large assemblies and top down design, flattened harness with manufacturing details such as wire/conductor lengths

Discuss workflow issues with respect to construction through and major changes to harness assemblies

Emphasis on top-down design with respect to cable design and harness design

Create 3D electrical harnesses using 2D schematic diagrams created with Creo Schematics to pass information into 3D harness designs through Creo Assemblies

Route electrical harnesses through Creo assemblies and separated top down models

Create Wiring Diagrams using Creo Schematic

Modify existing Creo Schematic diagrams for successful XML export to Creo assemblies for auto routing

Transfer Creo Schematics information into Creo Assemblies and respective drawing tables

Manage harness assembly designs with top-down design
40 hours = $2850 per student
For corporate rates, please call (312)226-8339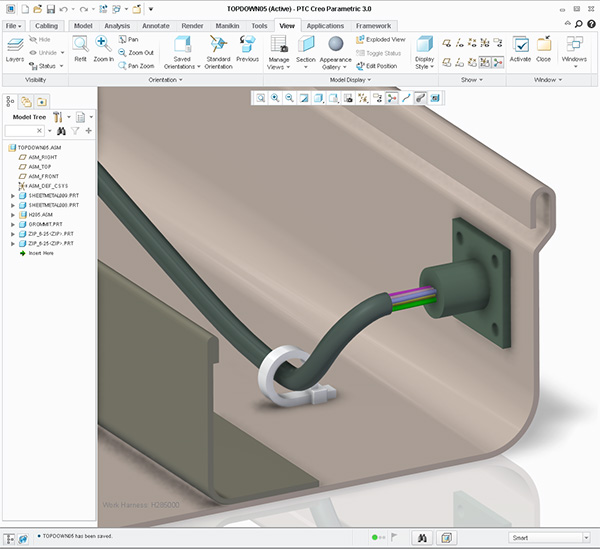 Discuss how Creo Schematics integrates with routing cables to enhance efficiency

Learn to route wires pin to pin with multiple connectors and cables in Creo Assembly to create harness designs

Expound alternate ways to gather usable connectors, i.e. IGES/STEP from website resources

Discuss the difference between wires and conductors

Discuss how to handle modifications to a cable if parts of the cable turn up missing

Discuss how top-down design aids in the cable routing process

Review why a designer might want to use top-down design relationships made for routing harnesses before submitting to a Team Center, Windchill, Intralink, or other library system

Learn to use flexible components as opposed to family tables for adding cable ties

Illustrate and discuss problems with auto route with respect to spool data, schematics and network cables

Discuss solutions workflow with respect to initial construction of cables through to auto routing process

Discuss the latest numeric harness manufacturing options

Determine wire lengths with Creo Harness design
Design Engine has prepared a series of 15 Creo Harness tutorials and Creo Schematics exercises that are designed to lead the participants through the cabling design and modification process, especially as we share a new workflow. These HTML and video tutorials are provided to the participants as a way to continue the Design Engine learning experience.
Video Training Delivery System
Ask your Design Engine account manager about our Training Delivery System(TDS), an easy-to-follow guide for designers and engineers who want a supplement to this course.