Cable Harness Design & Creo Schematics WEEK ONE
This five-day course is intended for Drafters, Mechanical Engineers & Electrical Engineers involved in the management of schematics, electrical cabling, and wire harness design or technicians who work within harness design and development teams. Participants will gain a healthy knowledge of routing cables and individual conductors within Creo assemblies to become proficient in harness design all in one week. Using Creo Schematics, you will learn how to create 2D electrical harnesses, then route that geometry through 3D Creo assemblies in order to obtain wire lengths and the appropriate nail board drawings of the flattened harnesses. After successfully completing the course, participants will be able to create 3D electrical harnesses and associated manufacturing deliverables using the latest version of Creo. This 40-hour course covers 12+ hours of study and use of Creo Schematics tools.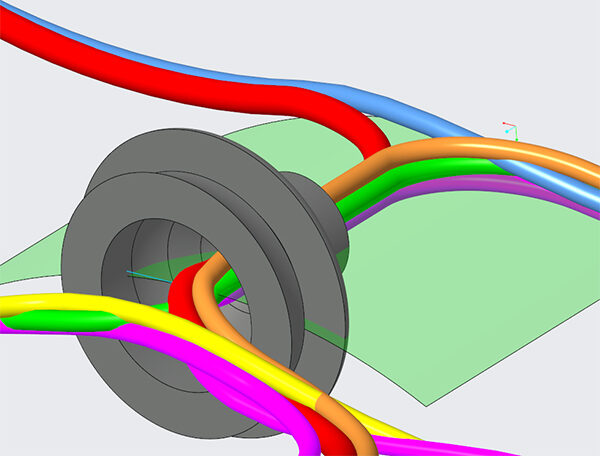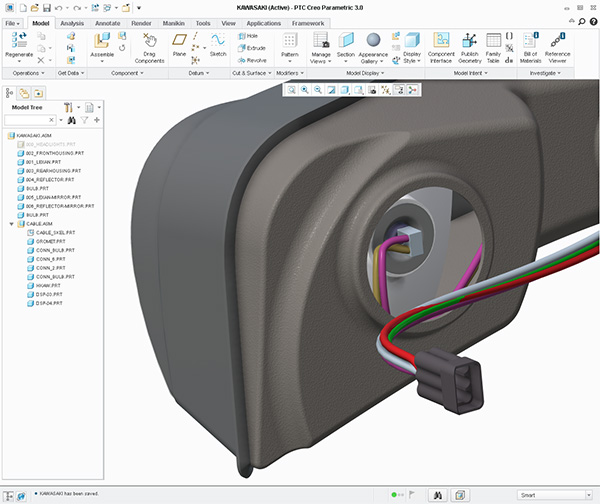 Modeling 3D Electrical Harness assemblies with Top-down design in Creo

Set up, import, or model connectors effectively

Route electrical harnesses through Creo assemblies and separate top down models

Create flattened harnesses for manufacturing

Learn how to create Wiring Block Diagrams and utilize that data to later autoroute functions through assemblies

Document harness designs by creating drawings that include customized BOM tables and wire list information

Gain a firm grasp on large Assemblies and Top-down designed, flattened harnesses with manufacturing details such as wire and conductor lengths

Create Electrical Harness Assembly Structures

Overcome workflow issues when making changes to harness assemblies

Learn to route wires conductors, pin-to-pin with multiple connectors

Creating Flat Harnesses for Manufacturing and Harness Detail Drawings

Creating Electrical Harness Assembly Structures

Create 3D electrical harnesses and associated manufacturing deliverables. 

Use Routed Systems Designer to create wiring block diagrams
Learn how to use Creo Schematics to create schematic diagrams for later routing in your Creo electrical harness assembly

Modify existing Creo Schematics for successful XML export to Creo assemblies for autorouting

Create with Creo Schematics to transfer information into 3D harness designs through Creo Assemblies
Understand the 2D schematic design processes for electrical harness designs

Configure the Creo Schematics working environment and catalog library components to use with your schematic

Create wiring diagrams including wire interconnect diagrams

Push diagram information to Creo Parametric assemblies and their respective drawings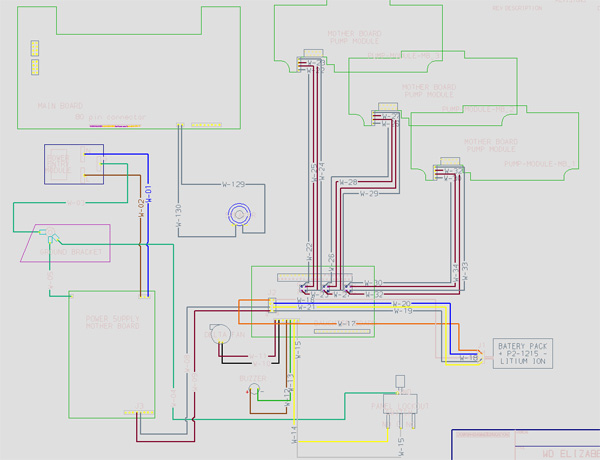 40 hours = $2850 per student
For corporate rates, please call (312)226-8339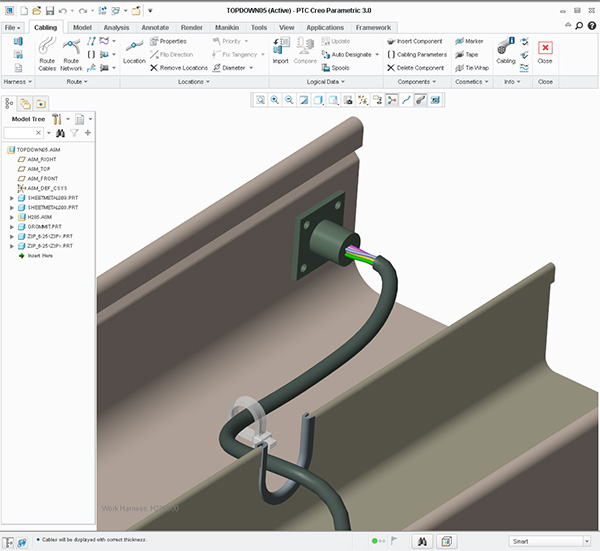 Discuss how Creo Schematics integrated with routing cables and auto route work together to enhance efficiency

Expound alternate ways to gather usable connectors i.e. IGES/STEP from web resources

Discuss the difference between wires and conductors

Discuss how to handle modifications to a cable if parts in the assembly turn up missing

Discuss how Top-down design aids in the cable routing process

Review why a designer might want to use top down design relationships made for routing harnesses before submitting to a team center, Windchill or other library system

Illustrate and discuss problems with auto route with respect to spool data, schematics and network cables

Manage Creo Schematic libraries within Windchill

After successfully completing this course, participants will be able to create 3D electrical harnesses and associated manufacturing deliverables using Creo assemblies and Creo Schematics.
Design Engine has prepared a series of 15+ Creo Harness & Creo Schematics tutorials designed to lead the participants through the cabling design and modification process. 
Day 1: Create and/or download various connectors from your favorite connector supplier, then prepare those connectors for routing. Learn to route wires and conductors by hand, without the use of Creo Schematics. Learn to create spools that assign various Route both single wires then cables in three separate examples
Day 2:  Explore the use of Top Down design as it relates to Creo Harness Design. Route one harness then learn to flatten that harness to make a nail board drawing.  Instructor will demonstrate the XML export of a Kawasaki headlamp Schematic into a Creo Parametric Assembly to route the harness. Serious introduction to Creo Schematics where participants learn to change parameters that prepare for XML export.
Day 3: More intermediate demonstration using Creo Schematics. Learn to create Creo Schematics library symbols. Create a simple custom schematic diagram to export that logical data, then route the harness using Creo Parametric assembly.
Day 4: Complete exercise from day three. Discuss any problem solving techniques for figuring out any problems. Start a new project that is more complicated using Creo Schematics then route that new schematic using Creo Parametric. Flatten that harness and create a drawing.
Day 5: Create more custom Creo Schematic Symbols relative to your work, then use those symbols to create a more complicated schematic related to your work. Use this day to start your company connector library.
Video Training Delivery System
Ask your Design Engine account manager about our Training Delivery System(TDS), an easy-to-follow guide for designers and engineers who want a supplement to this course.