Creo Surfacing : WEEK ONE
Course Duration: 40 hours (or whatever your needs are) This class is usually offered the last full week of each month except December. Call to inquire.
Prerequisite: Significant experience with Creo is always helpful.up several notches past their current surfacing level. The instructor to student ratio is excellent.
Overview: This workshop has been specifically designed for those interested in gaining a high level of Creo surfacing and ISDX Style usage in just one week. We will take designers and engineers up several notches past their current surfacing level. The instructor to student ratio is excellent.
Audience: This workshop is an intense week. It is perfect for those non degreed contractors looking to make top dollar as surfacing experts. The sooner you take this class, the sooner you will be considered an expert at Creo surfacing. This class is also imperative for those industrial designers frustrated with the engineering support staff and wish to create their own A-Side geometry. This class is also necessary for those design engineer or persons that typically support their industrial design departments. This class is also the prerequisite for the Design Engine Aircraft Surfacing class.\
Note: This course is usually customized to focus on the student's learning needs and company projects. Day one and day two focus are on constraint based parametric surfacing in Creo. The beginning of day three is focused on Sweeps and blend tools complete with graph and Trajpar equations for controlling geometry precisely. The end of days three and four focus is on the Creo Style tool. Day five is often dedicated to past or current project problems, plans of attack, or how to approach a Creo surfacing project. Bring example work or problematic models on flash drives for in-context discussions for work during and/or on the last day of class. We supplement this training with Alias-style techniques utilized in the automotive industry.
Onsite Training: This and all Design-Engine courses are offered onsite at your facility as well.
Next Course: Learn Creo with our Creo Surfacing: Week Two. This week-two is a full week of managing Advanced Surfaces, G2 Continuity, Advanced Top down design techniques, managing Co Injected rubber components, Creo Freestyle, Surface Edit Import Data Doctor & much more in this second week long Creo Surfacing intensive.'
The basis for this week-long course is to share the knowledge of tools within Creo for optimizing more parametric robust controls for the later use with Creo Style (was ISDX). Below are the ambitious goals of this course to be discussed/created/learned:
Powerful free-form Style tools by leveraging more robust Creo surfacing functions and curves.
Aggressive introduction to Creo and various surfacing techniques.
Technique for building a plan of attack, eliminate isoparms/isolines, and tangency issues.
Definitions of variable Sweep surfacing techniques with examples.
Maintain Draft using surface Sweep functions.
Order of surface feature creation and its significance.
Foam model evaluation process and several starting examples on initiating the surface modeling process (plan of attack).
Building surfaces from graph features.
Alternate surface creation techniques from more robust curves. Introduction to 3D bounding box or Lattice structures.
Advanced functions of Creo and its weaknesses and strengths compared to other high-end industry standard surfacing products.
Light reflections with respect to subconscious and conscious understanding of the 3D form.
Comparisons of Creo to Alias modeling techniques and discuss difference between each for approach.
Three part to four part boundary 'trickery' with more than four examples for getting out of snags.
Very complex robust models utilizing 'lattice structures'.
Incorporation of 'handles' for further control and understanding over surfaces that look at those curves.
Curvature continuity (G2) and multiple plans of attack by looking at existing products.
Standard modeling techniques with respect to industry standards.
Ten tutorials that illustrate technique through computer examples.
'Plan of Attack' and approach for capturing form from foam models or ID sketches.
Proving form and go over techniques for proving form.
Ideation techniques inside Creo (i.e. get to multiple 3D iterations within hours instead of days).
Participants can create work-based projects during class time.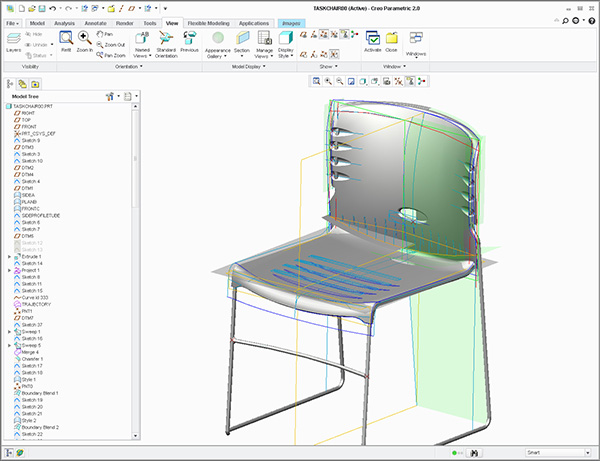 Participants can keep the username and password for the Design Engine web hosted tutorials to recreate after the class is finished. For additional video training, inquire about our Training Delivery System!
Discuss standard modeling techniques with respect to industry standards.
Discuss workflow with respect to modeling technique.
Discuss light reflections from an industrial designer's perspective with respect to G2 Continuity.
Compare Creo to Alias modeling techniques and the difference or benefits for each one.
Discuss three part to four part boundaries with more than four examples for getting out of a corner.
Discuss plan of attack and a simple approach for capturing form from foam models or ID sketches.
Discuss the ability to prove form and the techniques to get multiple 3D iterations within hours instead of days.
Discuss with specific examples advanced functions of Creo as well as the strengths and weaknesses by comparing it to other high-end industry surfacing software.
Discuss techniques for building a more robust plan of attack with respect to Creo.
Discuss clam shell plastic part design as related to swept surfaces. Also discuss styling grooves with examples.
Discuss the proper techniques of surface modeling and the ability for others to understand the approach.
Discuss in detail surface analysis tools and the practical uses with specific examples.
Discuss in detail the techniques for avoiding 3 part boundaries and discover why expert surface modelers do not use 3 part boundaries (even masters of surfacing for reverse engineering).
Discuss in detail what industrial designers studied in college and how as a product engineer you can work more efficiently within the design arena.
Overview of ISDX and discuss the strengths and weaknesses of both Creo surfacing and ISDX.
Introduction to parametric constraint based surface modeling & making changes easily utilizing the latest release of Creo. This Creo surfacing course is developed for seasoned users who want to become proficient learning Creo surfacing in just one week.  We help participants learn Creo surface modeling, not read to them from an exercise or book. In this course we help design engineers learn how to make changes quickly to their models to set them up for becoming surfacing experts faster. As with all Design-Engine classes, participants keep the training material login and password for life.
"My name is Marc Stewart. I previously have attended a training course put on by Bart Brejcha many years ago and liked his teaching style and have recommended our engineers to attend courses put on by Design Engine. Recently a number of our design engineers using Creo have expressed interest in the week long Creo Surfacing & ISDX Intensive course that Design Engine offers."
Video Training Delivery System
Ask your account manager about the Design-Engine Video Training Delivery System or TDS for short. We have prepared this entire class in an easy to follow guide for designers and engineers who may want this TDS as a supplement to this course. Call today to speak to an account manager about the details of this course at 312.226.8339
*Please note that prices listed on this page are based upon pre-payment prior to the start of the class.