Learning Creo for Industrial Designers
This course will empower seasoned industrial designers to use Creo at a high level. It is a serious introduction to constraint-based modeling, assembly, detailing, and surface modeling. We help industrial designers learn how to make changes quickly to set them up for becoming experts faster. This is made possible with previous SOLIDWORKS, Alias or Rhino 3D experience along with the understanding of the basic surfacing techniques required to develop stylized products. We will cover several of Design Engine's curriculum, Creo Learn to Design, Creo Surfacing, and Creo Style, all within 56 to 80 hours of the learning initiative. Participants will undertake numerous tutorials specifically designed to form a strong foundation within the Creo constraint-based modeler. The first three(3) days will be focused on the ins and outs of Creo and the last three(3) days will be focused on turning the industrial designer into a Creo Surfacing and Style expert. The day(s) in between will consist of a project using Top-Down Design created to transition the ID from learning Creo to surfacing with Creo.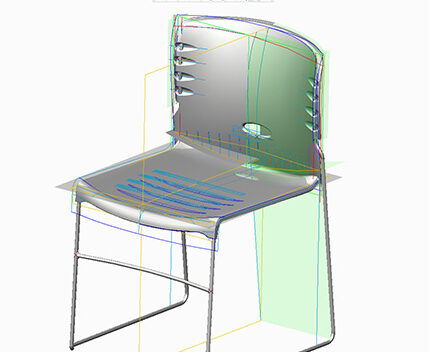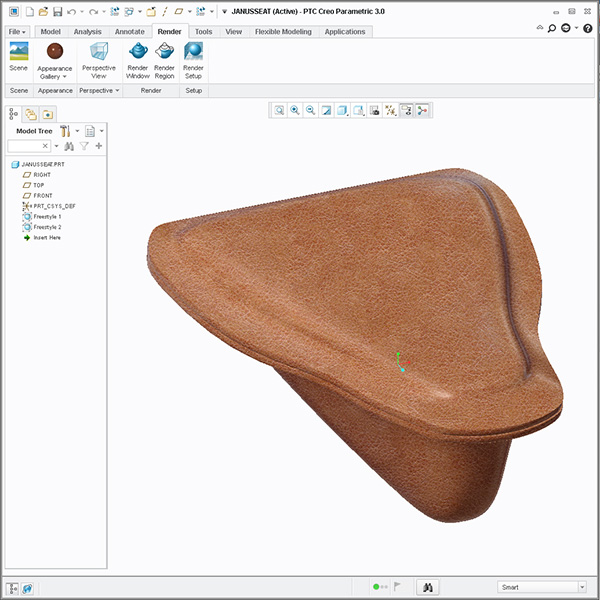 Demos and Discussions for Sketcher, Part, and Assembly Modes

Learn to customize user interface environment with map key development 

Create features such as Extrusions, Sweeps, Patterns, Shell, and Draft

Discuss Sweeping draft as opposed to using a Draft feature

Use Modify, Edit References, Insert Mode, Reorder edit references, and utilize Edit Definition

Learn to redefine parts, with certainty, that others have modeled

Learn to use drawings not only to document but as design tools (i.e. drawing over, etc)

Discuss the engineers responsibility for capturing form from an ID deliverable or foam models vs proving form inside the CAD model

Overview of Import Data Doctor

Shared vocabulary between ID and ME for developing an effective team

CAD database as a deliverable from one department to the next
56 hours = $4000.00 per student or the 80hr two-week version that includes the Creo Surfacing WEEK ONE split up over several months for $5700.00
For corporate rates, please call (312)226-8339
Designers with a degree in product or industrial design that possess a previous understanding of surface modeling package(s) workflow.
Model examples to discuss Pull Direction

Use light reflections for interpreting form while managing flow or striation of the surface contour

Create solids and cuts using surfaces

Utilize new skill sets to force rounds

Model Stapler in order to learn Top-Down Design techniques
Discuss the basics of 4-part boundaries and problems with 3-part boundaries 

Manipulate a curve through points using NURBS modeling techniques (Tweak)

Merge, Trim, Offset, Transform, Replace and Extend surfaces

Introduction to 3D bounding boxes for building more robust curved surfaces

Eliminate Isoparms/Knots and discuss tangency and curvature issues

Discuss G0-3 math in comparison to Alias or Rhino 3D

Define Class A surfacing with respect to modeling workflow   

Focus on ideation and proving form inside Creo with parametric Surfaces, Style & Free Style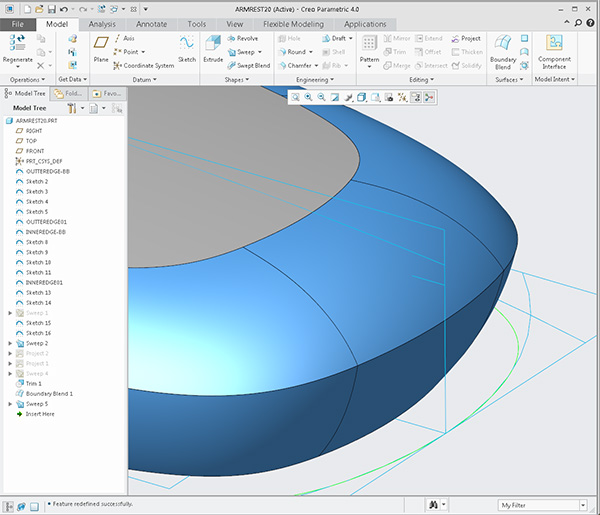 Video Training Delivery System
Ask your Design Engine account manager about our Training Delivery System(TDS), an easy-to-follow guide for designers and engineers who want a supplement to this course.