Creo Advanced Sheet Metal
Changes are made and updated parametrically throughout the entire design process. The result is fully-associative solid models of sheet metal parts and assemblies ready for production. Participants will be trained to work on items such as small battery contacts, aircraft mounting brackets, electronics enclosures, larger stove/oven components, or auto panels. The curriculum can be combined with Creo Surfacing tools for automobile sheet metal functions or for smaller battery contacts.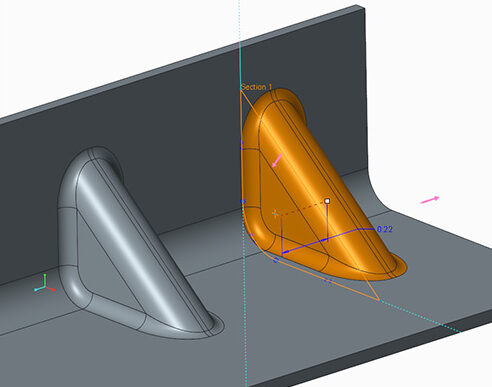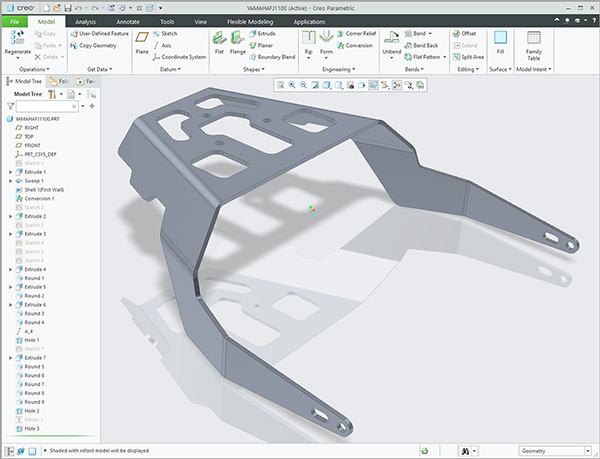 Set up Creo Sheet Metal for team design efforts

Bend allowance and developed length

Y & K factors

Punch and die reference parts

Sheet metal bend tables

Deformation areas

Importing STEP / IGES geometry then creating flattened states

Flexible modeling specific to Creo Sheet Metal

Starting with Solid parts vs Sheet Metal parts, i.e. convert vs conversion

Alternate methods and workflow for experts
16 hours = $1650 per student
For corporate rates, please call (312)226-8339
Discuss differences between Notch and Punch Forms

Sheet metal design approach

Discuss obtaining specific tolerances

How to modify Y & K factors for specific tooling or prototyping

Discuss stretching due to deformation areas

Importing STEP or IGES geometry

Flexible modeling specifically to Creo sheet metal

Creo Sheet metal  accounts for bends of different radii and material thickness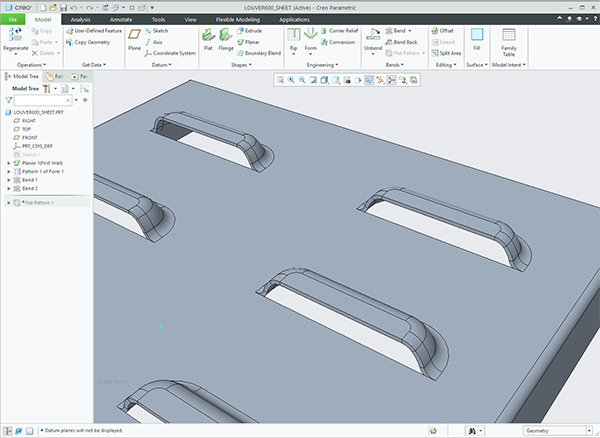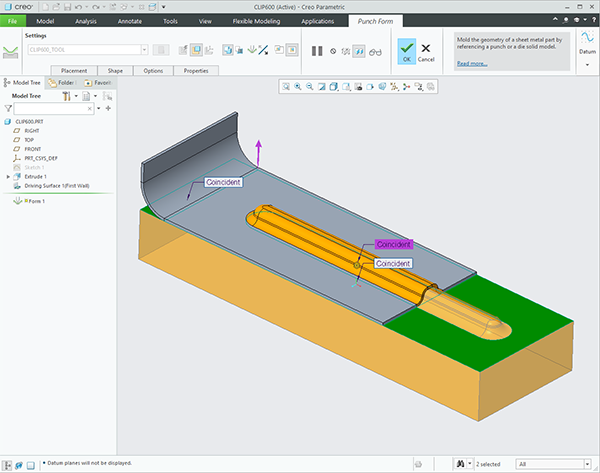 Use of geometric tolerance in Creo drawing mode

Discuss the use of parameters on detail drawings

Discuss cross sections and their many forms with respect to detailing

Adding and modifying Creo detail notes and workflow issues on drawings

Standard drafting principles related to Creo Drawing Mode

Discuss sheet metal drawings with examples on how to handle flat patterns

Discuss how administrators set up Creo drawing formats for automatically populating data on company standards

Discuss output with strengths and weaknesses of exporting to PDF, DXF, or postscript for printing

Discuss symbols in Creo and their use with respect to workflow

Discuss the difference between fully-dimensioned detail drawing vs minimal control drawing with respect to six sigma

Discuss the new ASME adopted standard for 3D notes or annotations

Discuss managing Drawing layers when parts contain curves and surfaces

Discuss managing exploded Assemblies

Learn to use servos within Mechanism

Utilize advanced assembly functions such as skeleton parts & top down design

Top-down Design seven-ways

Interchange Assemblies

Improve performance by simplifying large assemblies

Use top down design to communicate among team members more effectively

Learn to auto generate Bill of Materials

Learn to pattern more effectively with assemblies
Video Training Delivery System
Ask your Design Engine account manager about our Training Delivery System(TDS), an easy-to-follow guide for designers and engineers who want a supplement to this course.