Creo Robust Surfacing Techniques
In this Creo Robust Surfacing Techniques course, discuss the many different Creo surfacing styles and techniques. Learn with specific examples the basics of surfacing. More than an introduction, this course sets participants up for an aggressive growth into surface modeling using Creo software.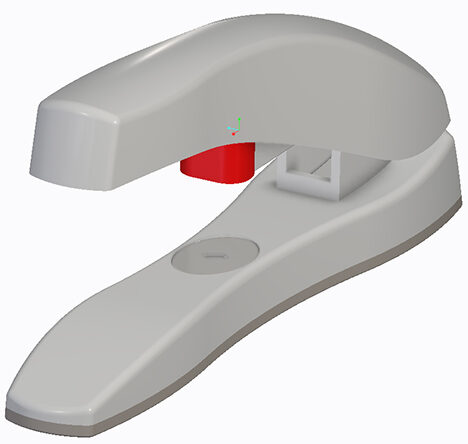 Use Extruded and Swept surfaces to create simple surfaces

Learn to build thin protrusions from single and merged surfaces

Learn to use the Extend, Freeform, Blend, Revolve and Flat Tools to create surfaces

Use Transform surfaces

Learn the basics of Import Data Doctor by managing IGES & STEP

Learn to use basic Sweep functions

Use the basics of four part boundaries

Utilize Merge to join surfaces

Discover how well Creo handles 3-part boundaries but understand the inherent problems with these 3-part surfaces

Discover blends

Learn to use Surfaces with respect to Top-down design

Learn to use Copy and Paste special with Curves and surfaces

Use surfaces to effect solid geometry
16 hours = $1650 per student
For corporate rates, please call (312)226-8339
Build solids from surface quilts

Learn how to build and construct robust 4-part boundaries

Create parametric curves, i.e. Datum Curves

Stapler, sweeps and top down design

IGES tutor, import data doctor

Paper in the wind, a four part boundary exercise

Hood scoop tutorial

Saddle tutor, sweep, project & trim tutorial

Smile tutor

Scallop tutor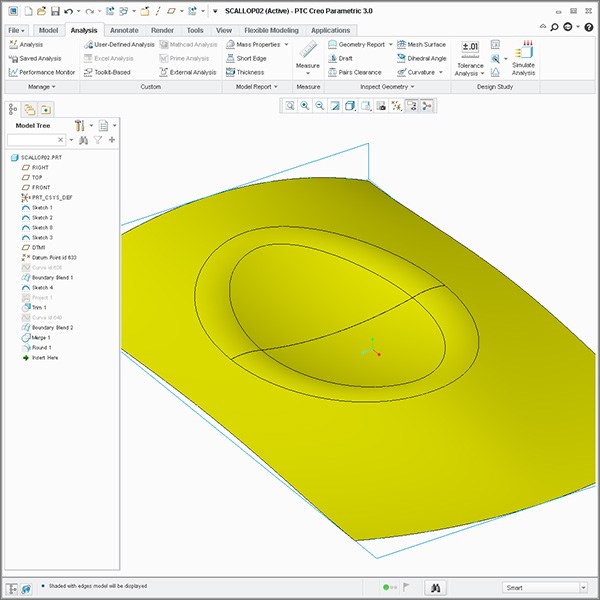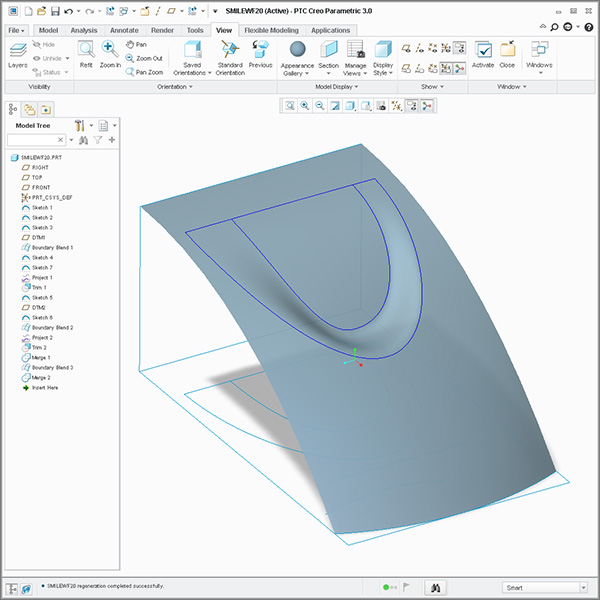 Discuss building robust surfacing curves and the time-saving benefits of a careful plan of attack

Discuss differences between sweep and blend tools

Compare and discuss other surface modeling software to Creo

Discuss clam shell plastic part design as related to swept surfaces and discuss styling grooves with examples.

Proper techniques of surface modeling

Discuss modifying models that others have designed

Discuss in detail surface analysis tools and their practical uses with specific examples

Discuss in detail how bad habits are formed with respect to surfacing and how you can avoid those same pitfalls
Video Training Delivery System
Ask your Design Engine account manager about our Training Delivery System(TDS), an easy-to-follow guide for designers and engineers who want a supplement to this course. 
* Please note that prices listed are based upon pre-payment prior to the start of the class. The TDS is available as an additional cost to this course.